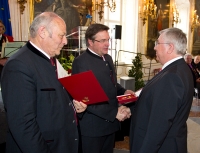 [2013-02-20] On Wednesday Rainer Blatt received the Order of Merit of the Province of the Tyrol. Representatives of the province awarded this decoration in recognition of the experimental physicist's sustained commitment and cutting-edge achievements in research.
"Rainer Blatt has made an essential and invaluable contribution to science with his outstanding and longtime research work," said the laudation for the honoree. "We cannot win the competition with our hands but we need to win the competition with our head, " says Governor Günther Platter at the event, which took place in the Giant Hall at the Hofburg Innsbruck. "And this is why it is so essential to have personalities like Rainer Blatt in science and research." At the same time Platter reminded the audience  that the Tyrolean Provincial Government has recently provided three million Euro for planning a House of Physics. This is also a subtle hint to the Federal Government to exercise their responsibility to ensure its quick construction.
Rainer Blatt is highly recognized for his groundbreaking experiments in the field of precision spectroscopy, quantum metrology and quantum information processing. One of his research milestones was the successful transfer of quantum information from one atom to another in a completely controlled way. He was also the first to realize a quantum byte, which is a further important step towards developing a quantum computer. "With these major breakthroughs in the last few years Rainer Blatt's research group has become one of the best and most experienced research groups worldwide. In addition to his research work, the physicist of international reputation strives to support junior scientists. He is also dedicated to sharing his knowledge with the broader public, in particular with teachers and interested pupils," it said in the laudation.
About Rainer Blatt
After receving his PhD in 1981 at the University of Mainz, working as a research assistant with Günter Werth, Rainer Blatt received a research grant to go to the Joint Institute of Laboratory Astrophysics in Boulder, USA and work with the future Nobel laureate John L. Hall. His professional career led him to the Freie Universität Berlin, the University of Hamburg and several times to the USA, until he was appointed Professor of Physics at the University Göttingen. In 1995 he was offered a Chair in Experimental Physics at the University of Innsbruck, where he has been Head of the department since 2000. Since 2003 he has also held the position as Scientific Director at the Institute for Quantum Optics and Quantum Information of the Austrian Academy of Sciences.
Rainer Blatt is full member of the Austrian Academy of Sciences and member of the Austrian Science Board. He has received numerous awards, for example the Stern-Gerlach Medal, the Science Award for Outstanding Achievements Research Work of the Foundation Südtiroler Sparkasse and the Carl-Zeiss Research Award (jointly with Ignacio Cirac) among others. In 2008 Rainer Blatt received a highly valued "ERC Advanced Grant" from the European Research Council.