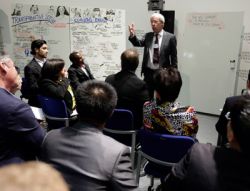 [2013-09-17] Last week Peter Zoller participated in the "Annual Meeting of the New Champions" of the World Economic Forum in Dalian, northern China. The quantum physicist presented the concepts behind his current research work and talked with artists, entrepreneurs and academics.
Every year leading economic experts, politicians, intellectuals and journalists discuss current global topics at the World Economic Forum in Davos, Switzerland. Since 2007 the Forum has organized the "Annual Meeting of the New Champions", which takes place annually in China. This meeting focuses particularly on model companies in fast-growing emerging markets such as China and India as well as on highflying companies in developed countries. It is also a meeting place for the next generation of global leaders and leading representatives of fast growing regions and competing cities as well as international technology pioneers.
Innsbruck physicist Peter Zoller accepted the invitation of the European Research Council (ERC) to participate in this years meeting in Dalian. In several talks and round table discussions, he presented an overview of his research field, which may offer the basis for new quantum technologies. Moreover, Zoller tried to convey his fascination that drives him as a researcher. He not only talked to scientists and academics but also to artists, entrepreneurs and journalists.
Last year Peter Zoller and three researchers from Germany, France and Israel received an ERC Synergy Grant. Over the period of six years the scientists have a total of 10 million Euro available to study new properties of ultracold quantum matter. With the Synergy Grant, introduced in 2012, the European Research Council supports cutting-edge pioneering frontier research of teams of two to four outstanding researchers.